What Society In Society Bakery Really Means (*Article Written by Lakewood Bubblelife)
August 14, 2011
Lakewood Bakery Sweetens Up Society
Walk into Society Bakery and it's a little bit like stepping into a dessert-lover's dream.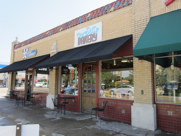 Scrumptious looking cupcakes sit perfectly aligned inside of glass display cases, just beckoning you to indulge in their decadence.   The tantalizing smells of freshly baked red-velvet whoopie pies and delicately frosted sugar cookies waft through the air and tease your taste buds.  Yes, this charming bakery is definitely a piece of paradise right here in Dallas.
And that's really what Society Bakery owner Roshi Muns is trying to achieve; a paradise of sorts in her Lakewood neighborhood and throughout the DFW metroplex.
She's working to accomplish that goal by lending an active, helping hand to her business's namesake: society. The bakery's motto of "Be Good to Your Sweet Tooth and Be Good to Society" is backed up by donations to over 100 charities, schools and organizations in the last year alone.
"Society Bakery believes in giving back to the community.  When local charities and schools ask us for help, we answer 'yes' almost 100 percent of the time," Muns said.
There have been so many "yeses" in the forms of luscious whoopie pies and mouth-watering cupcakes that she hasn't even assigned a retail value to all of last year's donations.
"We donate every day. Thousands of dollars a month… One of our decorators said it felt like every third order she was doing was a donation," she said.
Muns' latest cause is the Interfaith Housing Coalition Drive, taking place at the Greenville location. For every two items donated from the school supply list, Society Bakery will give you a free cupcake of your choosing. (Up to 3 cupcakes per donation).  The event will run through August 17th and the supplies will go to help East Dallas children.
Helping those in need, like the children who will benefit from the school supply donations, should be a large focus of any local business, according to Muns.
"It makes me sick to think of how much money is wasted by people and especially businesses," she said. "Those same dollars-or even time wasted-could make a very big difference in the life of a child-who without help might fall through the cracks and become a detriment to society, when they could have gone a different direction with guidance or resources and become an asset to society. We hope we can inspire other businesses and people in the community to give back."
And she wants people and businesses to know that helping others can really be a piece of cake.
"It is really very easy. You do not need to be wealthy to be philanthropic-and by all means if you are wealthy, then you should be philanthropic," she said.